Jasper First Methodist has an active media ministry supporting the Traditional and Contemporary Worship Services as well as the other church ministries with state-of-the-art technology.
Our primary purpose is to make the worship experience as meaningful and fulfilling as possible. Our secondary purpose is to expand the reach of the church's ministry beyond the the marble walls of our building through the availability of DVD copies of our services, and by broadcasting them live over the Internet. Additionally our website has HD video-on-demand streams available to provide each service for replay 24/7 from any computer with Internet service, worldwide.

In addition to making our church services available to non-members, this ministry also reaches our church family when they travel or move, including our college students and service members. Our services have been viewed across the United States and as far away as Germany and Columbia.

This ministry is operated by volunteers. The areas where volunteers are needed are:

Soundboard - We use a state-of-the-art X-32 all digital sound board.
Computer Graphics - ProPresenter 7.
Cameras - both remote controlled and manually operated.
Video Switching - vMix Lighting Coordinator

If you are a member, or even a non-member, and think you would like to participate contact us: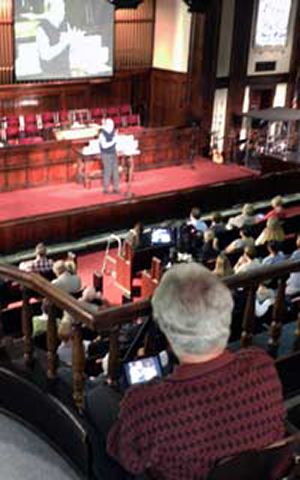 Add us to your phone just like an app!
Android
Open Chrome.
Navigate to jasperfirstmethodist.com.
Tap the menu icon (3 dots in upper right-hand corner) and tap Add to homescreen.
Choose a name for the website shortcut, then Chrome will add our icon to your home screen.
iPhone/iPad
Launch Safari on your ‌iPhone‌ or ‌iPad‌.
Navigate to jasperfirstmethodist.com
Tap the Share icon (the square with an arrow pointing out of it) at the bottom of the screen.
Scroll down to the list of actions and tap Add to Home Screen.
Type a name for your site link. This will be the title that appears beneath its icon on your home screen.
Tap Add in the top-right corner of the screen.